| | |
| --- | --- |
| Posted by Cathy Lynn Stanfill on January 23, 2012 at 9:50 PM | |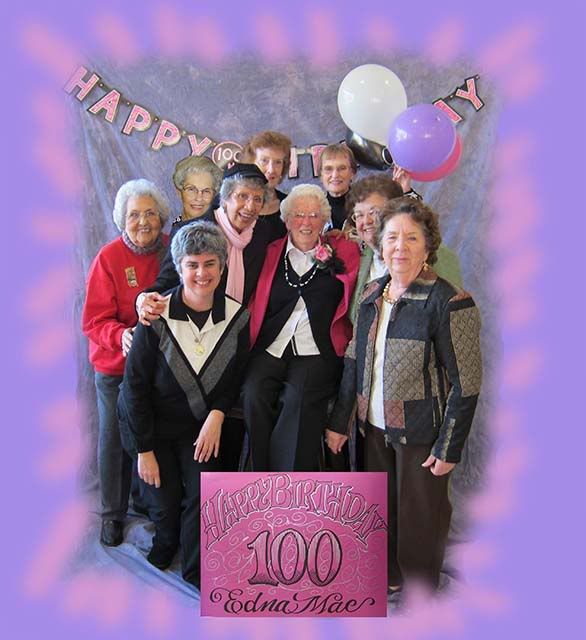 Grace Parlor was represented at Edna Grafton's 100th birthday celebration in Long Beach on January 21, 2012 at the Wardlow Park Community Center 3457 Stanbridge Avenue in Long Beach, California. The party started at 1:30 pm and lasted the entire afternoon. There was food, cake, a special toast, and an opportunity to get your picture or your group's picture with Edna Mae Grafton. Above is "Grace Parlor" with the birthday lady.  (Edna's actual birthday is January 23)
iles.me.com/ks6cw/j5uzxk PDF (Portable Document Format) Edna Mae Grafton 100 Birthday Party.pdf
files.me.com/ks6cw/vm1nde Power Point version of "Edna Mae Grafton 100 Birthday Party"
files.me.com/ks6cw/yvlzoo.key.zip ZIP file of the KEYNOTE format of "Edna Grafton 100 Birthday Party.key" ("Keynote" is Apple's software)
There are three (3) different ways to access the slide show of Edna's 100th Birthday by Cathy Stanfill. The first link downloads a PDF of the slide show. The second link is PowerPoint. And the last link is the ZIP file.
Enjoy the images.
Cathy Lynn Stanfill
Photographer and Graphic Artist
Some images were enhanced in Photoshop CS4 Extended.